Over the past few years, Trimble (TRMB) has demonstrated solid revenue growth: from $2.3 billion in 2015 to $3.3 billion in 2019. The trajectory came grinding to a halt in Q2 when revenue dropped 14% yoy as the impact of COVID-19 on the company's two largest business segments – Buildings & Infrastructure and Transportation – were hit hard. In the near-term, these businesses will likely stay challenged and present a headwind for a higher stock price. That said, the long-term investment thesis of the company is still intact: innovation, growth through M&A, and a larger recurring revenue base.
Q2 Earnings
From the Q2 EPS report, the revenue impact on Trimble's four business segments is clear:
Buildings & Infrastructure: revenue was $295.3 million, -13% yoy.
Geospatial: revenue was $145.2 million, -12% yoy.
Resources & Utilities: revenue was $143.8 million, -6% yoy.
Transportation: revenue was $150.9 million, -24%.
As a result, overall revenue was down 14% from Q2FY19 and EPS dropped from $0.37 to $0.25 per share yoy.
However, there was some good news. Cost-cutting efforts led to an increase in gross margins from 53.9% to 55.3% and annualized recurring revenue for Q2 was $1.21 billion, +6% yoy. In addition, adjusted EBITDA of $189.3 million was down only 5% as compared to Q2FY19.
Balance Sheet
FCF generated in Q2 was $134.6 million. Long-term debt at the end of Q2 was $1.56 billion, down from $1.62 billion at the beginning of the year. Cash at the end of the quarter was $196.4 million – up $7.2 million from the end of the previous quarter.
Net-debt to TTM EBITDA was 2.2x and there are no debt principle debt payments due until July 2022.
So despite the COVID-19 impact on revenue, the company was free-cash-flow positive over the first six months of the year and was paying down debt, raising cash, and actually bought back $50 million in stock during the quarter after suspending buybacks during Q1. The bottom line is that the balance sheet is strong, the company is free-cash-flow positive and more debt reduction is likely in the second half of the year.
Going Forward
On the Q2 presentation the company reported a $1.2 billion backlog (up yoy) and $1.8B in TTM software, services and recurring revenue, both of which in my opinion are bullish going forward. That's because the backlog is strong and represents contractual commitments that management expects the majority of which will be recognized as revenue within the next 12-months. The recurring revenue base continues to grow and makes for a more resilient company with higher margins: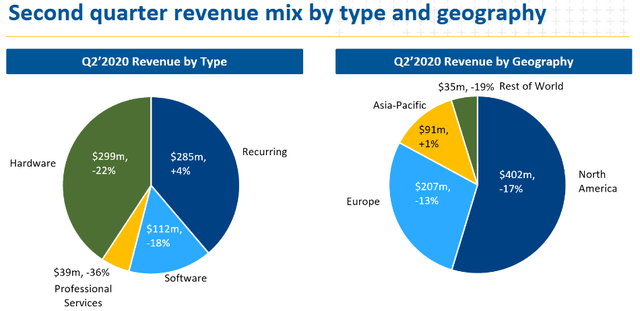 Source: Q2 presentation
Note that recurring revenue and software sales now greatly exceed hardware revenue (in 2008, hardware was 89% of revenue; in 2013 – 61% came from hardware). The continuing trend in recurring revenue growth is a primary investment catalyst for Trimble and CEO Rob Painter said on the Q2 conference call:
Slide two lists the five key messages we want to convey today. First, our resilience, the quality of our strategy and the strength of our financial model enabled us to outperform our own expectations in the second quarter. ARR, at $1.21 billion, adjusted EBITDA margins at 25.7% and deferred revenue at $531 million were clear highlights. Our shift to a more hardware connected, software-centric, and recurring revenue business model is paying off.
For Q3 the company expect continued growth in recurring revenue, but a continued yoy decline in total revenue, but not as bad as Q2. Gross margins are expected to increase due to more software revenue.
The company's strategy and investment thesis remains firmly intact. In the words of the CEO the strategy is "delivering breakout innovation that connects the physical and digital worlds." So whether that is in analytics, using the IoT for remote monitoring of wastewater infrastructure, or its new machine control Platform-as-a-Service product line, Trimble is innovating and disrupting markets.
Given its strong balance sheet, the company will likely announce more acquisitions to accelerate its strategy. As a result, debt reduction will likely be prioritized over share-buybacks in terms of cash allocation – at least over the near-term.
Trimble has been around since the 1970's and I'll always think of the company as satellite-based "Trimble Navigation" that made cool mobile GPS devices. And it still does: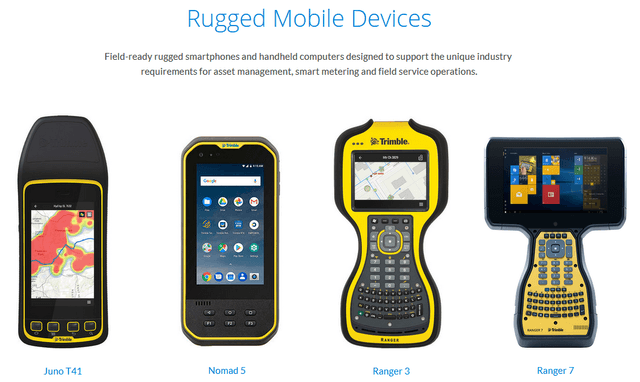 Source: Trimble
But the company is obviously much more than that these days. That's a good thing because hardware sales continue to decline and higher margin software sales are offsetting these declines and delivering higher margins in the process.
Risks
Given Trimble's strong balance sheet and its ability to generate FCF in a tough business environment, the primary business risk is the continued negative impact of COVID-19 on the global economy and perhaps Trimble's ability to source parts from China through the supply chain – and tariffs could also play a role in that regard. The economy generally affects Trimble's two largest segments ( Buildings & Infrastructure and Transportation) the hardest. As a result, the company's revenue will likely remain under pressure until the global economy more fully recovers from COVID-19.
Summary & Conclusion
Trimble's strategic plan is spot-on. Unfortunately, COVID-19 has hit them hard and it appears the company's growth trajectory will continue to be affected in the coming quarters, certainly for Q3. Considering the TTM P/E=27, and Seeking Alpha's FWD P/E=26, the stock does not appear to offer excellent potential for growth over the coming year. I think investors can wait for another couple of (tepid…) quarterly reports and take a fresh look at the company come Spring of 2021.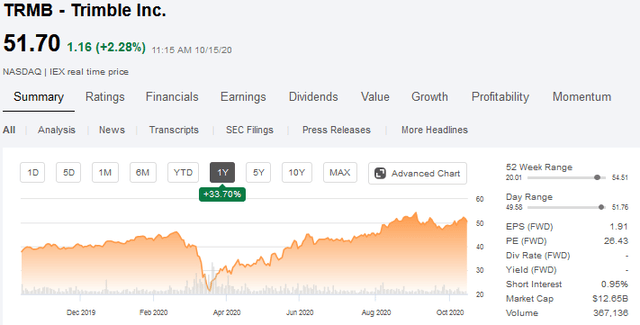 Disclosure: I/we have no positions in any stocks mentioned, and no plans to initiate any positions within the next 72 hours. I wrote this article myself, and it expresses my own opinions. I am not receiving compensation for it (other than from Seeking Alpha). I have no business relationship with any company whose stock is mentioned in this article.
Additional disclosure: I am an engineer, not a CFA. The information and data presented in this article were obtained from company documents and/or sources believed to be reliable, but have not been independently verified. Therefore, the author cannot guarantee their accuracy. Please do your own research and contact a qualified investment advisor. I am not responsible for the investment decisions you make.