Introduction
Beyond Meat (BYND) extreme valuation has attracted many short sellers. The stock maintains a high short interest at around 17%, and even the last 10 articles on Seeking Alpha include 7 bearish ratings with only 1 bullish. While the bearish thesis is well thought and reasonable, this stock is by no means a good short opportunity.
Source
A Great Short, On Paper
Since its IPO price at $25 in 2019, Beyond Meat's stock exploded over 700% breaking $200 per share a few months after. A crazy run of this kind certainly raised the interest of any short-seller, and many of them are still looking to capitalize on Beyond Meat's crash more than a year later. In fact, Beyond Meat short interest, the total number of open short positions on the stock, is still high at 17% of market volume. Bears thesis are centred around the company overvaluation, also highlighting important issues such as increased competition and expansion slow-down. The stock is indeed rather expensive, especially if you try and price it as a traditional food manufacturing company. A traditional approach would stare at negative earnings and a forward P/E of over 200, an excessive number even for the most high-risk tolerant investors.
High-growth companies like Beyond Meat, however, cannot be valued based on their P/E ratio. The P/S ratio is a better metric for evaluating fast-growing companies, which are sacrificing real earnings in an attempt to expand their reach and gain a competitive advantage. Beyond Meat P/S ratio currently stands at 20, which is high, but actually not so crazy high when compared to other fast-growing companies in this market. Most high-growth companies with P/S over 20, however, are in the technology sector. The only other packaged food company sharing similar characteristics (high growth revenue over 30% YoY, and a P/S over 10) is Freshpet (FRPT). Compared to Beyond Meat, Freshpet has lower P/S ratio at 15, higher gross margins (45% vs 34%) and positive cash from operations at $21 million. On the other hand, Beyond Meat can count on double Freshpet revenue growth rate and weaker stock performance over the last year (Bynd -20% vs Freshpet + 120%). In a market that values high growth companies dearly, Beyond Meat does not look extremely overvalued.
Momentum Is Not Stopping Yet
Beyond Meat is not a fading growth story. The company hit a record quarter despite half (pre-pandemic) of its revenue source, businesses and restaurants, being annihilated by the pandemic related lockdowns. Last quarter showed significant business adaptability and resiliency from strategic planning, production supply chain, and consumer preference points of view.
In Q2, Beyond Meat reached a record $113 million in net revenues, up 69% YoY. At the beginning of the year, the company revenue source was split 50/50 between retail and foodservice business. Beyond Meat has now pivoted to a more retail-centred approach, a segment that showed significant reliability in a challenging environment. The revenue source is now split 88% retail and 12% foodservice.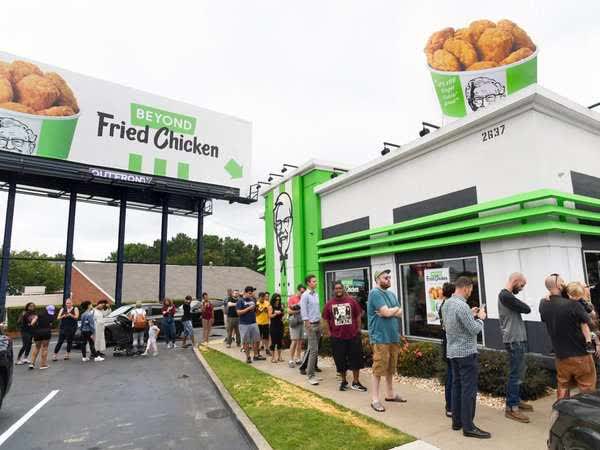 Source
On a product portfolio point of view, Beyond Meat keeps innovating and achieving initial customer satisfaction. The recent limited-time promotion with KFC for its Beyond Fried Chicken sold out in half the time planned in Los Angeles and achieved initial positive customer feedback.
There Are Catalysts Going Forward
Beyond Meat recently announced its retail expansion through an e-commerce site to allow customers to shop for Beyond Meat products directly from the company. Last quarter, retail net revenues already increased by 192% year-over-year. This new distribution point should constitute a catalyst that helps maintain a similar level of growth towards the end of the year and beyond.
Another catalyst comes from the continuing expansion in the number of in-store distribution points, both domestically and abroad. In September, Walmart will expand the distribution of Beyond Burger to reach over 2,400 stores, and breakfast sausage patties to over 2,200 stores. Beyond Meat retail presence now includes 26,000 retail outlets only in the U.S, with global outlets reaching 112,000 in Q2, and up 19% from Q1.
The fundamental catalyst to Beyond Meat remains, of course, the vegan and vegetarian trend worldwide, which I discussed in more detail in my previous article.
Takeaway – Do Not Short
Yes, the stock is relatively expensive, and yes, competitors are constantly launching their new line of competing products. However, Beyond Meat expansion plans do not show sign of stopping anytime soon. The company has built a strong brand that retail consumers keep buying at fast rates despite additional in-store competition. The opening of the new e-commerce, in-store distribution point expansions, and a constantly innovating product portfolio will sustain this growth rate in the short to medium term. In a market where fast-growing companies maintain high P/S multiples, Beyond Meat could trade at and above these levels for longer than you can afford it going short.
Author's Note: If you found this article of value and want to receive updates on this research, just click the "follow" button near the title. I would love to hear your opinion, leave a comment in the section below!
Disclosure: I/we have no positions in any stocks mentioned, and no plans to initiate any positions within the next 72 hours. I wrote this article myself, and it expresses my own opinions. I am not receiving compensation for it (other than from Seeking Alpha). I have no business relationship with any company whose stock is mentioned in this article.
Additional disclosure: I am not a financial advisor. All articles are my opinion – they are not suggestions to buy or sell any securities. Perform your own due diligence and consult a financial professional before investing or trading.