Investment Thesis
The tide of institutional caution or enthusiasm "floats all equity boats". Is your present stock swim activity adequately cash-clothed?
Only you can determine whether the question is more a matter of current tactics or of ongoing strategy, and what to do about your decision.
So have a look now at what the MMs' self-protective actions are saying about market-leading stocks like MSFT, AMGN, BA, KO, NKE and MCD.
Past 5-year price tracks left by major market indexes
Figure 1
Source: Yahoo Finance
Recent major market price retreats have been at year-end 2018 and in March 2020, now due to the COVID-19 pandemic.
For the latter drawdown, the market had little warning, but going into 4Q2018 was different.
Day Traders & small institution trade-desks may say: "Market-makers? What do they know? They're just order-takers!"
That's what the MMs want you to believe. Their self-protective hedging actions say different; take a look at their price forecasts at key points in time, like late 2018.
Timely big-name Reward-to-Risk balancing price forecasts
Figure 2

used with permission
These maps locate securities at the intersection of prospective price gains (green horizontal scale) and potential price drawdowns (red vertical scale) based on market-maker hedging behavior to protect their necessary endangerment of firm capital as they enable volume trades. Desirable conditions are down and to the right.
Note how, at the end of 3Q2018 ( left map) coming stock price optimism on the horizontal green scale is quite restrained when the Dow Jones is at 25,560 and the S&P 500 ETF (SPY) is 284. Then the cluster of Dow Jones' stocks draws up closer to the dotted diagonal line, marking an even balance between upside and downside prospective price changes.
But on the way to stocks taking a -26% dive by SPY to $210 and by the Dow Index's -14% on Christmas Eve, the coming-prices focus starts to shift to the upside (right map). Then the less-defensive issues were anticipated to have upsides of +15% to +20%, with their downside prospects shrinking into the less-than -5% equivalent area of the green zone.
Figure 1 shows how prescient were the MMs' anticipations with the market indexes returning to their prior highs in 5 months with gains of over 20% from the time of the right-hand map's alert.
So, where are we now? Is it a left-hand map warning of restraint, or a right-hand map of encouragement to fresh capital commitments at today's new lower (than yesterday's) prices? Please check out Figure 3.
Figure 3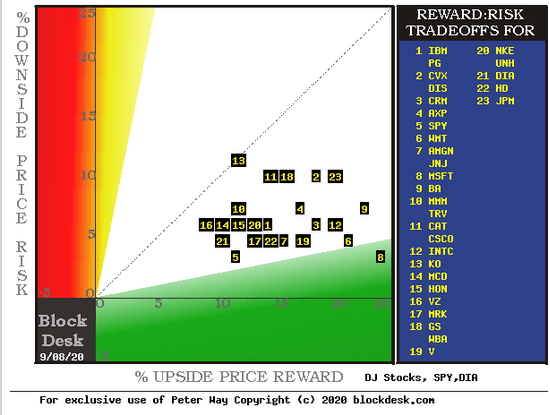 used with permission
As they appeared in late 4Q2018, the growth-oriented Dow Jones Index stocks now show lots of +15% price-change expectations by the market-making community. But what's the chance that beyond the DJ stocks the enthusiasm may not be reflected in the larger market sample?
Other stocks' price-change expectations by MMs
We monitor the equity-derivatives' markets widely, daily, resulting in coming-price forecasts for nearly 3,000 stocks, ETFs, and indexes. The forecasts all are ranges of likely prices between upside and downside extremes demonstrated likely enough to be encountered that big money is being spent for protection, just in case. The current market quote on the subject security of the forecast divides that range into upside and downside price change prospects. We label the downside percentage of the range its Range Index [RI].
All of those near-3,000 RIs are (or should be) viewed by potential investor entrants – or possible departees – in probably slightly different intensities. But they make far more comparable alternatives than by most other measures. Here is how their current array is distributed.
Figure 4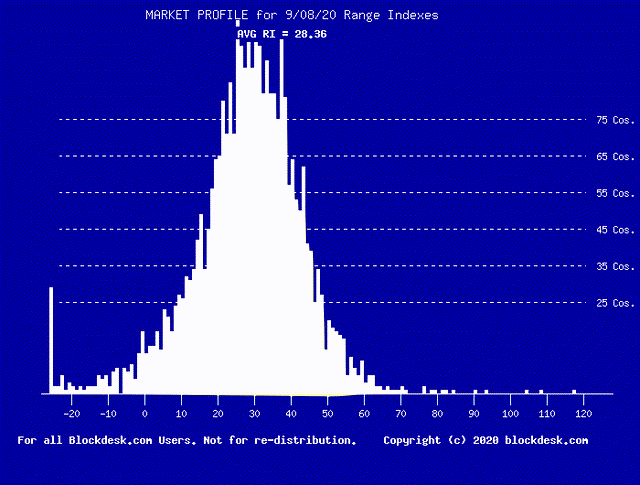 used with permission
The Market Profile is a distribution by count of the number of equity securities having a balance between upside and downside price change forecasts this date, as indicated by each security's Range Index [RI]. The RI tells what percentage of the forecast coming price range is between the current market quote and the low extreme of the forecast range. A negative RI occurs when the market quote is below the lowest forecast. Stocks with a 50 RI have downside price change prospects as large to the upside as the downside.
The average RI for the near-3,000 forecast population provides a broad based estimate of the sentiment of the current dominant participants in the investing community. That normally is the big-moneyed institutional investor group, but there have been times when individual investor fears influence public prices to produce RI forecasts at abnormally low levels.
Generally, the population RI average experience ranges between 20 and 40. Today's 28+ is a well-shaped, fairly concentrated distribution, suggesting a well-composed market, one not fearful of the near record-high levels of many indexes. There is a collection of extremely low (irrationally? cheap) stocks off the negative end of the RI scale at the Profile's bottom. Toward the other extreme, the number of 50 RI and over securities appears to be asymmetrically low in comparison with the count of those below zero RI.
Conclusion
Today's market does not appear likely to be dragged lower in the next 3 months (including a presidential election) by anything now known – including the election's outcome. Still, normal concerns pushed out of the normal experiences range should not be concerned as extreme until they approach 20. So there is some room for the current constructive (but not wildly enthusiastic) sentiment to erode. Given all the potential negatives present for concern by investors, there likewise is room for many securities to reach an overpriced status.
The Figure 4 Market profile is normally restricted to blockdesk.com subscribers, but the Reward~Risk Tradeoff map seen in Figures 2 and 3 for Dow Jones stocks is freely open at blockdesk.com on a current daily basis to any of the investing public.
Disclosure: I/we have no positions in any stocks mentioned, and no plans to initiate any positions within the next 72 hours. I wrote this article myself, and it expresses my own opinions. I am not receiving compensation for it (other than from Seeking Alpha). I have no business relationship with any company whose stock is mentioned in this article.
Additional disclosure: Disclaimer: Peter Way and generations of the Way Family are long-term providers of perspective information, earlier helping professional investors and now individual investors, discriminate between wealth-building opportunities in individual stocks and ETFs. We do not manage money for others outside of the family but do provide pro bono consulting for a limited number of not-for-profit organizations.
We firmly believe investors need to maintain skin in their game by actively initiating commitment choices of capital and time investments in their personal portfolios. So our information presents for D-I-Y investor guidance what the arguably best-informed professional investors are thinking. Their insights, revealed through their own self-protective hedging actions, tell what they believe is most likely to happen to the prices of specific issues in coming weeks and months. First months of 2020 to date have produced some 2500 profitable position closeouts, 75% of over 3200. Evidences of how such prior forecasts have worked out are routinely provided in the SA blog of my name.