Skechers (NYSE:SKX) is a footwear retailer with a strong value proposition for consumers that I expected to outperform in its segment during an economic downturn. However, due to the nature of the COVID-induced recession, consumers are spending heavily in this market segment and have not shifted to lower-price brands. Skechers is performing well considering the heavy disruption it has dealt with, but has failed to capture additional market share, and I no longer see a reason to hold the company going forward.
Skechers: The Pre-COVID-19 Thesis
I initiated my position in Skechers in March of 2019. As we were reaching what looked to be the end of a market cycle, I was searching for consumer discretionary stocks that could potentially thrive in a recessionary environment.
In a typical recession, discretionary spending habits change in a few predictable ways, as consumers are pressured to save more and spend less due to the combined pressures of less income and greater economic uncertainty. First, they tend to "trade down" to cheaper products within a market segment. Second, they tend to redirect spending to discretionary items that are long-lasting (like apparel or household appliances) rather than transient (travel, eating out, etc.). Both behaviors are reflective of a desire to get the most value out of each discretionary purchase.
I felt that Skechers was well-positioned to thrive in such an environment. Skechers is a footwear retailer with a primary focus on casual and athletic shoes. It also offers a fantastic value proposition for consumers. RunRepeat, a respected website for reviewing and recommending running shoes, gives Skechers the highest average quality rating of any brand it covers – despite Skechers' offerings having the lowest average price.
Image from RunRepeat's study: "Expensive Running Shoes Are Not Better Than More Affordable Running Shoes"
I felt that Skechers' market positioning was ideal for the recessionary consumer. Footwear was among the best-selling discretionary segments through the 08-09 recession, and as a lower-priced brand, I felt that Skechers had a great opportunity to pick up market share from competitors like Nike (NYSE:NKE) or adidas (OTCQX:ADDYY).
Beyond the attractiveness of its product, Skechers was also well-positioned from a corporate standpoint. The company had a rock-solid balance sheet with no debt and a significant cash pile ($824MM at the end of 2019) and was pursuing an ambitious growth strategy with many new store openings across the world.

From Skechers 2019 10-K report, page 13.
I felt that Skechers had the financial flexibility to continue expanding aggressively during a recession, and that a consumer focus on value would allow it to expand market share and create brand loyalty while the company was improving its market presence globally.
Post COVID-19, The Thesis Has Not Played Out
So way back in March 2019 (feels like ages, doesn't it?), my thesis was based on the possibility of an upcoming recession. Now, the recession has arrived, and we've had some time to digest the impacts on consumer spending. So has Skechers been able to take advantage as I had hoped?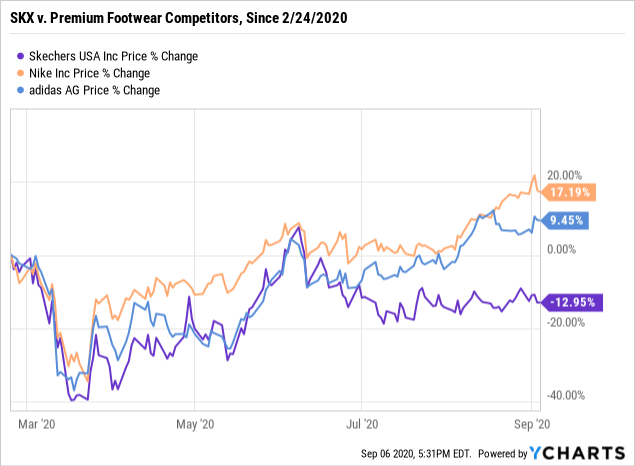 Short answer: No. Since the pre-COVID market peak, the pricier footwear competitors have continued to grow, leaving Skechers behind.
So where did I go wrong? Well, I failed to anticipate the unique circumstances caused by a pandemic-induced recession. The COVID-19 economy has a different set of winners and losers than past recessions, and that has particularly affected Skechers' market segment. One of the big winners among consumer discretionary sectors has been "athleisure" – with the US and UK seeing "sales of activewear…up 40% and 97% respectively during the first week of April" 2020, according to Forbes. It's unsurprising, as consumers have been forced to heavily cutback in sectors like travel and dining due to pandemic restrictions, that things like home workouts and fitness have become larger priorities.
And when a sector becomes a consumer priority, the beneficiaries tend to be the premium brands rather than the bargain brands. Looking beyond just footwear, check out the performance of premium fitness brands like Lululemon (NASDAQ:LULU) and Peloton (NASDAQ:PTON) compared to well-known bargain brands, as well as the discretionary sector as a whole: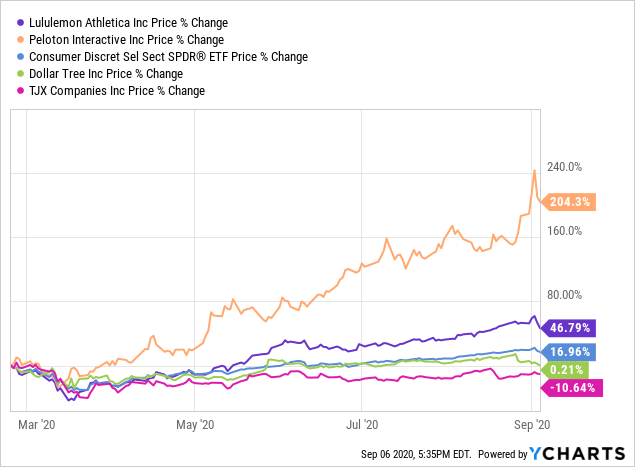 These premium products have been big winners since COVID, and perhaps counterintuitively, would have been much better investments than the discount retailers.
What Now for Skechers?
Skechers' performance during the pandemic has been solid. It managed to show improved margins and better-than-expected revenues in this quarter's earnings, leaning heavily on improved online sales while stores were shut down. And I still feel that the company has a great balance sheet, a good product, and an opportunity to execute on its emerging market growth strategy.
But one of the cardinal sins I try to avoid when investing is to hold onto an investment that's searching for a thesis. Investing in a single company carries a lot of risk, and in order to compensate for that, I need to see a strong company-specific reason to be confident in future outperformance.
The fact is, while I like this segment and this company, I no longer see a compelling reason to believe that it will substantially outperform in this segment going forward. Therefore, I can't recommend investing directly in Skechers. For an investor who wishes to bet on continued consumer focus on the "athleisure" segment, I'd suggest looking into an ETF like Global X Health & Wellness Thematic ETF (NASDAQ:BFIT), a health-and-wellness focused ETF. This fund offers exposure to Skechers (a 2.17% stake, which is the fund's 19th largest position out of 59), but gives you much more diversification across the segment.
Conclusion
My experience with Skechers shows the difficulty of trying to forecast winners based on macroeconomic events. I think my Skechers investment thesis was quite reasonable, but failed to foresee the unique effects of a pandemic-induced recession. Consumer behavior in this segment has been exactly flipped from what we'd see in a typical recession, and I have paid the price for trying to shift into value ahead of the downturn. While I still think Skechers is a solid company, it competes against many other solid companies, and I no longer see a compelling investment thesis. I will be exiting my position at a slight loss and redeploying that capital elsewhere.
Disclosure: I am/we are long SKX. I wrote this article myself, and it expresses my own opinions. I am not receiving compensation for it (other than from Seeking Alpha). I have no business relationship with any company whose stock is mentioned in this article.
Additional disclosure: I am still holding shares in SKX at time of writing, but plan to exit my position in the near future.