The growth vs value debate is usually framed as an either or proposition, you are either a growth investor or a value investor. The young are usually painted as sheep skipping aimlessly toward the slaughter of high priced hyper growth companies and the old as dinosaurs missing out on all the returns by sitting endlessly in utilities and industrial's.
In this article I would like to look at a strategy to rotate between growth and value within your own portfolio during times of extreme out performance of a sector, using my own portfolio as an example.
Source: www.nabungsaham.id
Growth and value are not zero sum games, you can and should invest in both! Young investors need value stocks and old investors need growth companies. This in practice is something that most investors thankfully do have a relative balance of within their portfolios to start with, however generally investors tend to pick a side for extremely long periods and never adjust.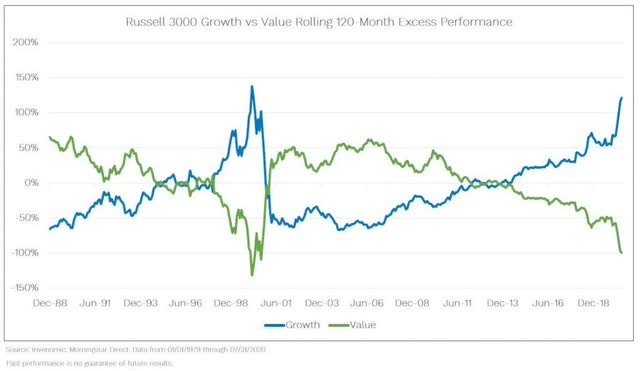 Source: Morningstar | Empowering Investor Success
As we can see from the above graph, the historical tug of war between growth and value that has raged over the decades has been a bit of a stalemate. Imagine this as a pendulum swinging back and forth throughout time.
As you can see, these swings, when they are the most violent as in the period of 1997 – 2007 have led to massive out performance on both sides. Clearly if you had rotated out of value and into growth in 1997 then out of growth and into value in 2000 then once again re allocating to growth in 2011, you would have one heck of a return.
Realistically, it is next to impossible to be both so precise and also have the conviction to move your entire portfolio in such a manor. Great fortunes have in fact been made doing just that. But for most people, timing in such a manner is simply not feasible and is a largely futile exercise.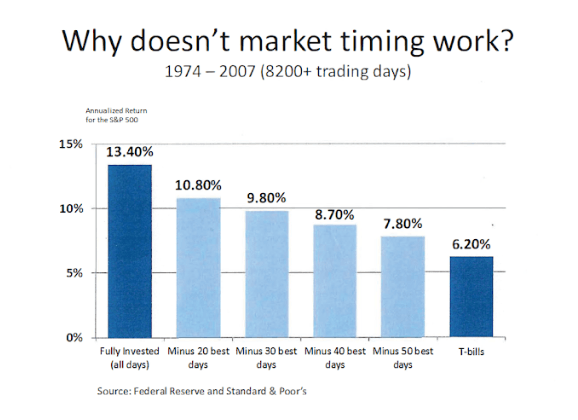 Source: Standard & Poor's | Americas
When I hear people say "I am 75% in cash right now" I usually shudder. Market timing in the sense of selling everything and waiting for a crash has such a low percentage of actually working, it is laughable for most investors to even attempt.
I must admit to attempting this foolish game myself to a lesser degree in 2006, moving roughly 25% of my holdings to cash in mid-2006 thinking the market was vastly overpriced, and it was, but it ran up another 20% in the meantime. When stocks started to fall in 2008, I was so eager to grab some bargains that I bought in with most of my cash right before the true bottom fell out. The market took until 2012 to return to 2007 levels.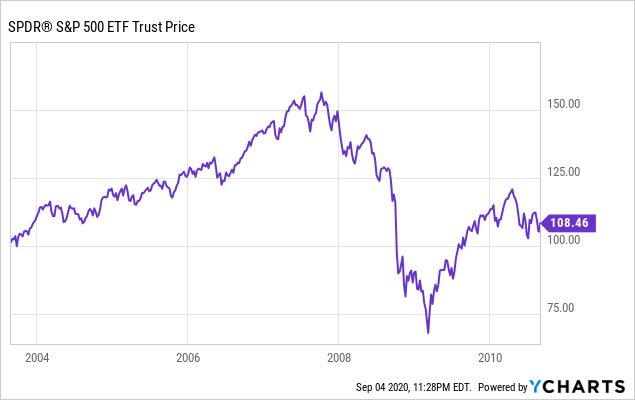 What I am advocating for is a hybrid model, which allows a large room for error. My thought is to stay close to fully invested at all times and use your own portfolio as a source of funds to rotate.
Let me be clear that in bear markets, you will still lose money by doing this, the goal is to lose a little bit less money than you would in an agnostic allocation and use that "saved" money to increase growth allocation once they have been beaten like a dead horse.
Let me dig into that a little further and use my moves recently in my main portfolio as an example.
In August I took the following actions:
Sold-
Nvidia (NVDA)- I sold 50% of my position
Amazon (AMZN)- I sold 40% of my position
Facebook (FB)- I sold 30% of my position
Twilio (TWLO) – I sold 30% of my position
Alibaba (BABA) – I sold 20% of my position
Tencent Holdings (OTCPK:TCEHY) – I sold 20% of my position
First Solar (FSLR) – I sold 20% of my position
Buy-
Nutrien (NTR) – I added 50% to my position
Philip Morris (PM) – I added 50% to my position
Duke Energy (DUK) – I added 40% to my position
Southern Company (SO)- I added 40% to my position
Sempra Energy (SRE) – I opened a new long position
Berkshire Hathaway (BRK.B) – I added 30% to my position
Diageo (DEO) – I added 30% to my position
AT&T Inc. (T) – I added 30% to my position
Unilever (UL) – I added 25% to my position
Wells Fargo (WFC) – I added 25% to my position
Citigroup (C.PK) – I added 25% to my position
Kinder Morgan (KMI) – I added 25% to my position
IBM (IBM) – I added 20% to my position
Bayer (OTCPK:BAYRY) – I added 20% to my position
As I am sure you can deduce, I have way more adds then sells, double to be precise. The reasoning behind this is that my growth companies have so massively outperformed the value names I purchased that the proceeds were more than enough. In fact, I still have roughly $7,000 left over in cash to put to work from selling part of my growth winners.
The stocks I sold are in my opinion significantly overvalued and while I believe all of these companies have bright futures, any reasonable person with an understanding of valuation metrics would concede that they are trading in Goldilocks territory.
The positions I purchased however sell for what I consider reasonable and in some cases cheap valuations and with the exception of Berkshire Hathaway and Wells Fargo, pay fantastic, secure dividends.
Many of you right now I am sure are going to call me crazy for selling winners and buying "losers" but let me address this. I am still heavily invested in growth as evidenced by my current as of 09/05/2020 top 10 holdings below:
Nutrien Ltd
Alibaba Group
Corning, Inc. (GLW)
Wells Fargo & Co
Hannon Armstrong Sustainable Infrastructure (HASI)
Alphabet Inc (GOOGL)
First Solar, Inc.
Philip Morris
Lowe's Company (LOW)
Diageo Plc
By my count, 50% of my top 10 holdings and roughly 40% of my total portfolio is still growth oriented. So if I am wrong, and growth continues to outperform to infinity and beyond, I still have a lot of skin in the growth game. If I am right however and growth performs worse than value in the next period of time, I will hopefully capitalize.
Now this capitalization may be in the form of lower overall losses, but it is out performance none the less. In essence I am making a small wager that growth has gotten ahead of itself and that the price of the companies I sold will come back down to buy-able levels. If they do, then I make a few clicks and I am right back to my original growth allocation, only with a few more shares than I started with.
The key to this is holding (permanently) a good mix of solid growth and value companies to rotate within. My portfolio currently has 42 occupants, most of them have been with me for at least 5 years and I plan to keep them all, for the long term. I am a tinkerer by nature and this approach allows me to potentially add a few percentage points of return once or twice a decade, whilst satisfying my need to "do something".
Full disclosure, I do have a smaller, separate account that I hold 35 hyper aggressive growth companies in to satisfy my gambling urges. I do not utilize this strategy in that portfolio, I swing for the fences!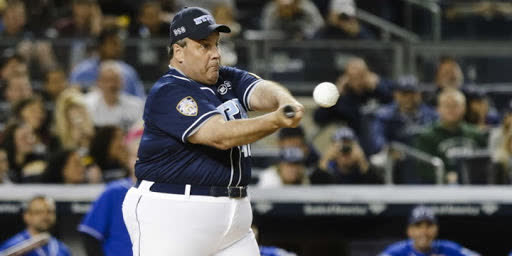 Source: The Marvin Kitman Show
This strategy of rotation in my main portfolio is not one that I recommend using often due to the obvious negative tax consequences of strictly selling portions of huge winners. I will only use this strategy when growth, or conversely value have prolonged periods of outperformance such as the period we are currently in.
I may well be wrong this time, history doesn't always repeat itself, but it sure seems to rhyme quite often. If I am wrong, at least I will be content to collect some additional hefty dividends from high quality companies selling at fair prices while still holding the majority of the positions driving the markets currently.
"This is not a solicitation to buy or sell a specific security nor is it to be construed as investment advice, please contact your licensed financial and tax advisor for advice to your specific situation"
Disclosure: I am/we are long ALL LISTED. I wrote this article myself, and it expresses my own opinions. I am not receiving compensation for it (other than from Seeking Alpha). I have no business relationship with any company whose stock is mentioned in this article.
Editor's Note: This article covers one or more microcap stocks. Please be aware of the risks associated with these stocks.