Welcome to the still crappy edition of Natural Gas Daily!
US LNG exports are picking back up again, and Henry Hub cash has increased back to $2.35/MMBtu. But October futures are finally dropping, reflecting the weak near-term fundamentals (as reflected in cash already).
And now, if you couple that with the lower CDDs in the coming weeks, you can see why cash has remained so weak.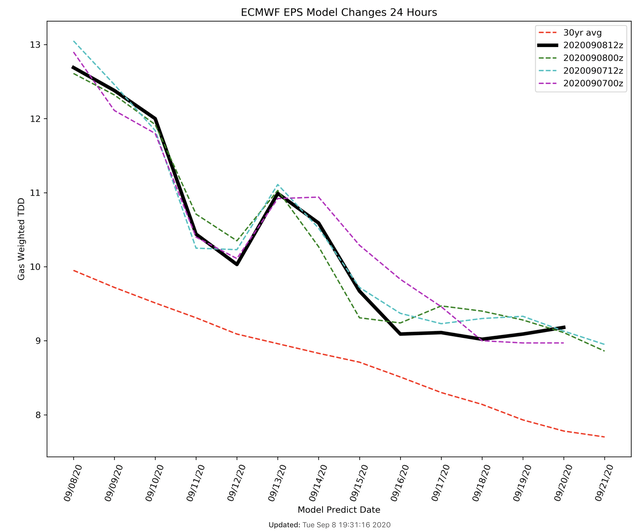 Source: HFIRweather.com
Today's move lower should also come as a big red flag. Over the weekend, we saw ECMWF-EPS show ~+10 TDDs, and even with the increase, we are seeing a major sell-off in price. The lower cooling demand is going to be somewhat mitigated by the much higher LNG exports in September (estimated to be between 6 and 7 Bcf/d), but that still won't push prices higher if the two demand factors offset one another.
Lastly, weekend fundamentals also saw a move higher in Lower 48 production, which was contrary to what some had expected further exacerbating the near-term price weakness.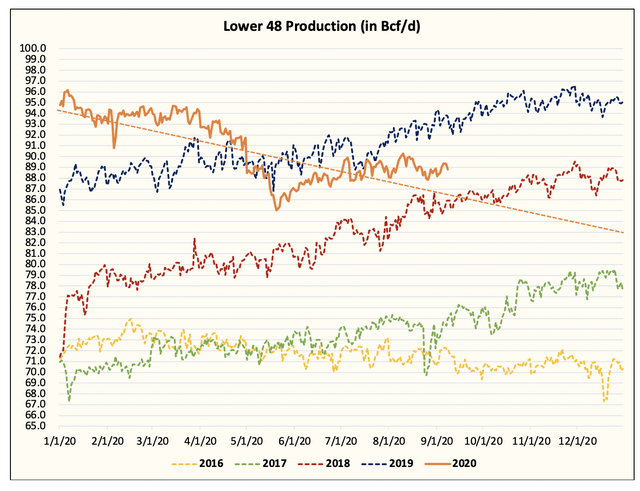 September production is expected to be about ~1 Bcf/d lower than August. Given the US shale oil shut-in production has already fully recovered and the initial surge in associated gas production is finished, the trend should be for production to keep declining.
If for some reason this is not the case, then the natural gas forward curve is vastly overvalued. We can go into a long-winded description as to why this is the case, but to put it simply/directly, natural gas averaged below $2/MMBtu from April to July, and yet production was kept steady?
But keep in mind that this is not our base view whatsoever. We still see production falling to ~84 Bcf/d by year-end, but near-term production readings/trend becomes very important in figuring out the forward balance.
In essence, what we are saying is keep an open mind.
For now, we remain short UNG in our NG trading portfolio.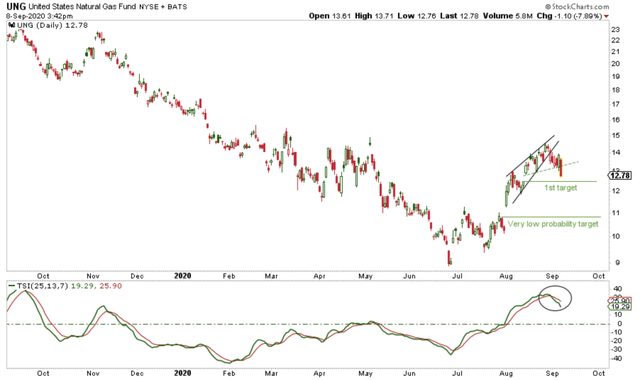 We think this correction is only just starting with October likely to test $2.30 and November around $2.75.
HFI Research Natural Gas, #1 Natural Gas Service

For readers investing or trading natural gas or natural gas equities, don't be blinded by the incoming moves. At HFI Research Natural Gas, we give you guidance on natural gas fundamentals, weather, and set-ups to help you navigate the dangerous natural gas market. Come and see for yourself why we are the #1 natural gas research service on Seeking Alpha.

Disclosure: I am/we are short UNG. I wrote this article myself, and it expresses my own opinions. I am not receiving compensation for it (other than from Seeking Alpha). I have no business relationship with any company whose stock is mentioned in this article.