[ad_1]

Source link

Looking for more security in the high yield space? Maybe you should consider preferred shares, particularly cumulative preferreds, such as the Hoegh LNG Partners LP, 8.75% Series A Cumulative Redeemable Preferred Units (HMLP.PA).
Since our previous article about HMLP.PA in late June 2020, these preferred shares have had a good return of 10% in ~9 weeks:
These units are senior to the common units in a liquidation scenario, and they're also cumulative, meaning that management must pay preferred unit holders for any skipped distributions before paying common distributions.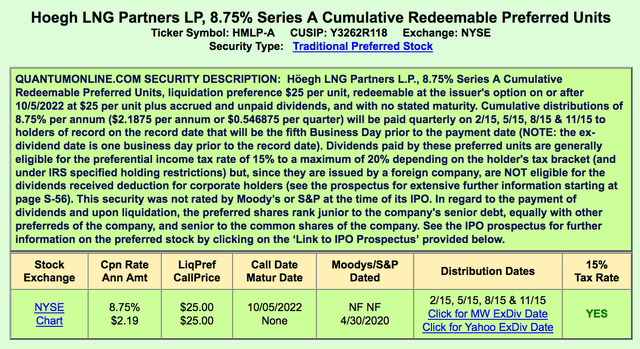 Profile:
Hoegh LNG Partners LP (HMLP) is a pure play on FSRU's. FSRU stands for "Floating Storage & Regasification Unit." FSRU's have been a rapidly-growing presence in the LNG shipping industry in the last few years. HMLP's parent/sponsor, Höegh LNG Holdings Ltd., is the largest provider of FSRU's in the market. FSRU leasing/chartering solves many problems for charterer companies and countries. It's slow and expensive to build an LNG import terminal, so FSRU's are being increasingly used to give countries access to LNG.
HMLP operates on long-term contracts with a current average remaining length of over nine years:

(HMLP site)
HMLP's revenue backlog is fairly even between Asia and Europe, with South America contributing a smaller balance. Its biggest counterparty exposure is PGN in Indonesia.
Litigation Resolved:
One risk which has been taken away is the final settlement of the boil-off litigation with the charterer of the Neptune and Suez Cape Ann vessels.
This was finally settled in April 2020, for a total of $23.7M, to be paid in installments in 2020. HMLP is indemnified by Höegh LNG for its share of the cash impact of the settlement, the arbitration costs and any legal expenses, the technical modifications of the vessels and any prospective boil-off claims or other direct impacts of the settlement agreement.
In April 8, 2020, the Partnership was indemnified by Höegh LNG for its share of the joint ventures boil-off settlement payments by a reduction of $8.6 million on its outstanding balance on the $85 million revolving credit facility from Höegh LNG.
LNG Industry Status:
With production increasing, LNG prices in Japan, Europe, and the Mediterranean have all declined to the point where they are similar to coal. Spot LNG pricing has been cheaper or similar to coal pricing for several years: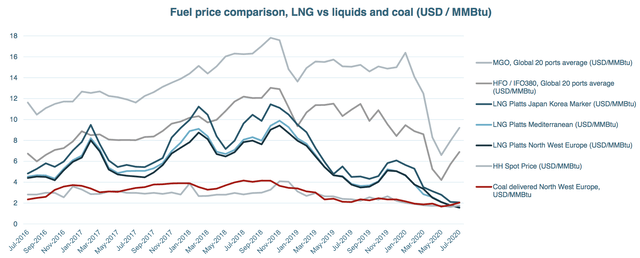 (HMLP site)
Although COVID-19 shutdowns increased the seasonal demand weakness in Q1-2 2020, global LNG trade was still up 6.5% in the first half of 2020, vs. 2019. Europe is the main growth market, but China's LNG imports grew 20% in Q2 2020: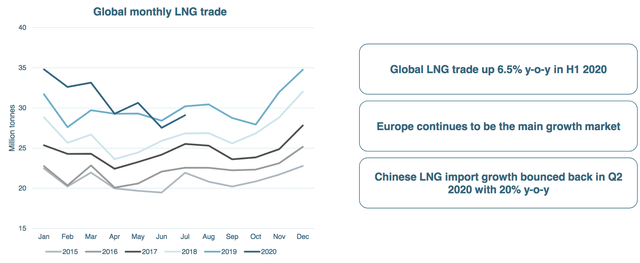 (HMLP site)
Earnings:
Revenue was steady in Q1 – Q2 2020, while Q2 2020 showed much improvement in EBITDA, DCF and Net Income, vs. Q2 '19. One factor which helped in Q2 '20 was the new charter for the Höegh Gallant vessel, which contributed two months of earnings. The charter began on May 1, 2020, and runs through July 2025.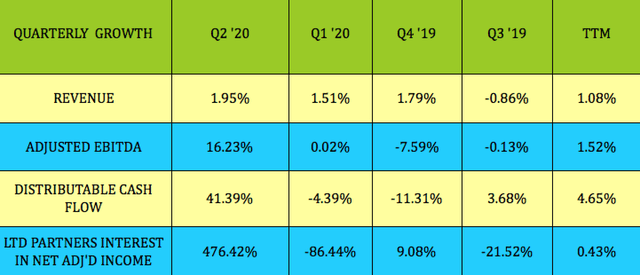 Q2 '20 EBITDA and DCF growth was aided by the fact that there was a Q2 '19 planned off-hire and scheduled drydock maintenance for the Höegh Gallant vessel. HMLP's long term contracts support smoother earnings flow.
The main events which can countermand this are unrealized losses on derivative instruments, drydockings, and charter leases ending, which affect net income.
For example, in Q1 '20, there were higher unrealized losses of $10M on derivative instruments, mainly on the Partnership's share of equity in earnings (losses) of joint ventures. Net income fell to $1.8M, vs. $13M in Q1 '19.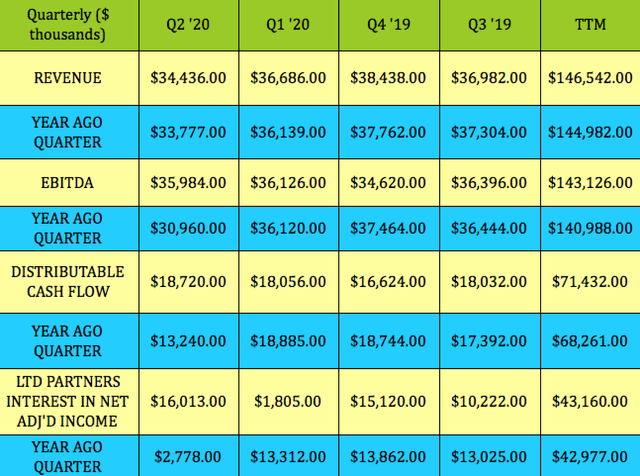 Over the past four quarters, revenue, EBITDA and net income were up slightly, while DCF was grew 4.65%. EBITDA/interest expense coverage improved a bit, to 3.69X, vs. 3.54X in the previous four quarters: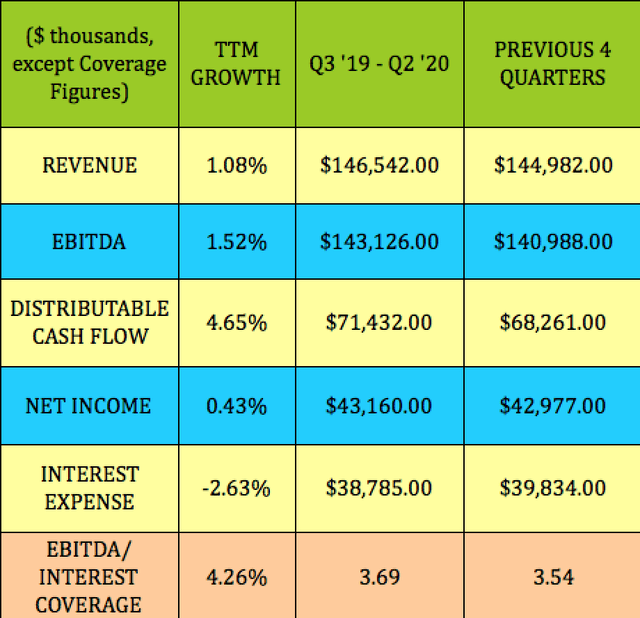 Other than that dip in Q1 '19, HMLP's EBITDA has been pretty steady since mid 2018, while DCF has been more lumpy: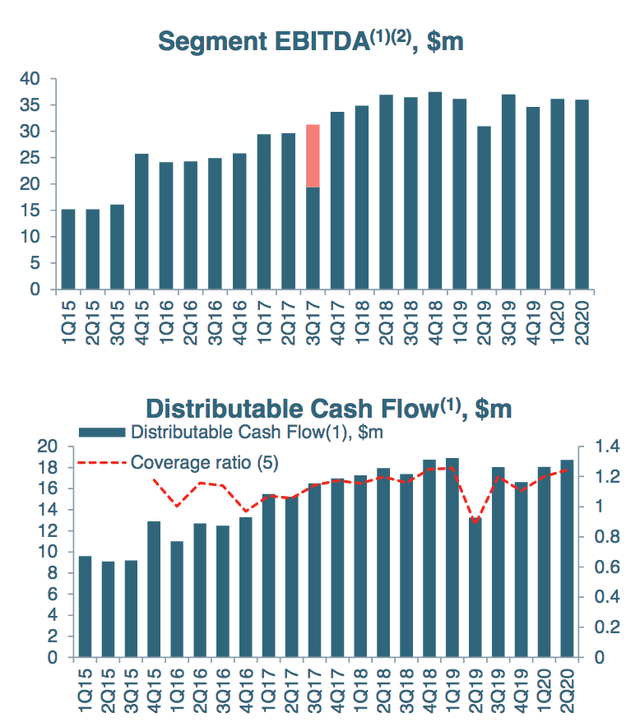 (HMLP site)
Preferred Distribution:
At $23.66, HMLP.PA yields 9.25%, and is 5.4% below its $25.00 call value. It goes ex-dividend and pays out in a Feb/May/Aug/Oct. schedule.

There's no maturity date, but the call date is 10/5/2022. With low rates probably still in effect at that point, there's a possibility that HMLP's management might redeem these 8.75% preferred units, and replace them with another, lower yielding preferred series, or maybe do a lower refinancing. With ~6.7M units to redeem, it'd be a ~$168M redemption.
Here are the theoretical gains for that scenario. With eight quarterly distributions left, for a total of $4.38, plus a $1.34/unit capital gain, the net profit would be $5.72, for an annualized yield to call date of 11.59%:

We looked at preferred distribution coverage two ways – via net income and DCF. Since net income available to limited partners already deducts preferred distributions, we added them back to that total, in order to get the correct ratio.
HMLP has an ATM program through which it sells additional Series A preferred units, in order to raise cash, hence the increasing amount of units listed below for Q1-2 2020. With energy-related common units often at depressed levels, we'll probably see an increasing amount of ATM programs for preferred units in the near future.
The adjusted net income/preferred coverage factor was 3.43 for Q1-2 2020, still healthy, but down vs. 4.81X in 2019. The DCF/preferred coverage factor actually increased, to 5.01X, vs. 4.82X in full year 2019: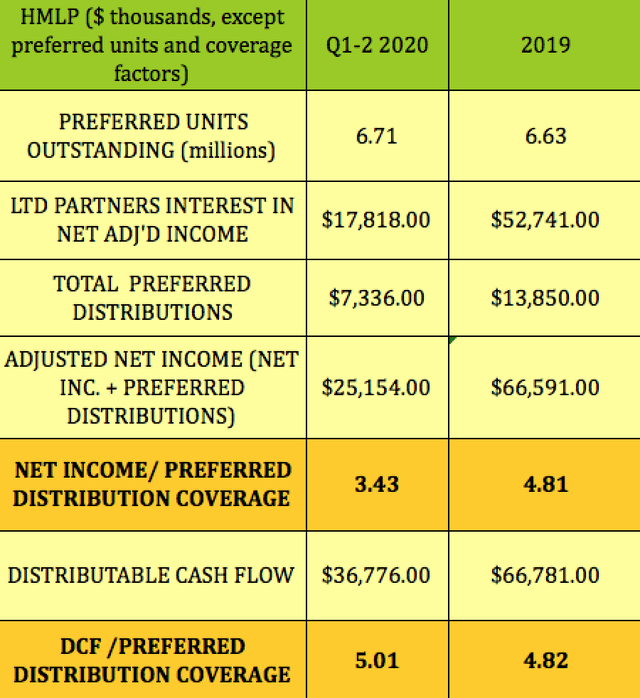 Taxes:
Since it's a C-Corp, HMLP issues a 1099 at tax time: "The Partnership has elected to be treated as a C-Corporation for tax purposes (our investors receive the standard 1099 form and not a K-1 form)."
"Distributions we pay to U.S. unit holders will be treated as a dividend for U.S. federal income tax purposes, to the extent the distributions come from earnings and profits ("E&P") and as a non-dividend distribution or a return of capital ("ROC") to the extent the distributions exceed E&P." (Source: HMLP site)
These preferred units qualify for the preferential 15%-20% tax treatment. They were treated as 100% qualified dividends in 2019.
Performance:
Although the HMLP common units yield over 16%, the HMLP.PA units have held up much better in 2020 and over the past year. Like certain other preferreds, they spent much of 2019 above their $25.00 call value. They reached as high as $27.82 over the past year.

Financials:
HMLP's ROA, ROE and EBITDA/Interest coverage are much better than the averages of its peers, while its debt leverage ratios are much lower.

Debt and Liquidity:
HMLP had ~$114M in liquidity as of 6/30/20, with $25M in cash, and $88M in undrawn amounts under its two revolving credit facilities. As of 6/30/20, long-term debt decreased ~5%, to $391M, vs. $412M on 12/31/20.
Its $385M facility doesn't mature until 2026. As of June 30, 2020, HMLP was in compliance with the financial covenants for both of its debt facilities.

(HMLP Q2 '20 6K)
Options:
There are no options available for the HMLP common units.
All tables furnished by DoubleDividendStocks.com, unless otherwise noted.
Our Marketplace service, Hidden Dividend Stocks Plus, focuses on undercovered, undervalued income vehicles, including bonds, preferreds, CEF's and special high yield situations.
We scour the US and world markets to find solid income opportunities with dividend yields ranging from 5% to 10%-plus, backed by strong earnings.
We publish exclusive articles each week with investing ideas for the HDS+ site that you won't see anywhere else.
We offer a range of income vehicles, many of which are selling below their buyout and redemption values.
Disclosure: I am/we are long HMLP.PA. I wrote this article myself, and it expresses my own opinions. I am not receiving compensation for it (other than from Seeking Alpha). I have no business relationship with any company whose stock is mentioned in this article.
Additional disclosure: Our DoubleDividendStocks.com service features options selling for dividend stocks.
It's a separate service from our Seeking Alpha Hidden Dividend Stocks Plus service.
Disclaimer: This article was written for informational purposes only, and is not intended as personal investment advice. Please practice due diligence before investing in any investment vehicle mentioned in this article.


[ad_2]

Source link