It has been a bumpy September so far. The month is only half over, but both the S&P 500 and NASDAQ 100 are solidly lower so far in September. The S&P 500 has fallen by just over -3%, while the tech heavy NASDAQ 100 is down by more than -7%. Modest declines to be sure, particularly given how strongly both headline benchmarks had risen in the five previous months since the March lows. While stocks may soon resume their climb to the upside, we have 30 reasons why stocks may fall further (and 80 billion reasons while they will eventually bottom and rally, but more on that later).
Technical resistance. Let's start with the first 20 reasons.
With the stock market correction that took place from September 3-7, both the S&P 500 and the NASDAQ 100 dropped decisively below their respective 20-day moving averages. This was the first time since the end of June that the S&P 500 had fallen below this short-term technical level (the green line on the chart below).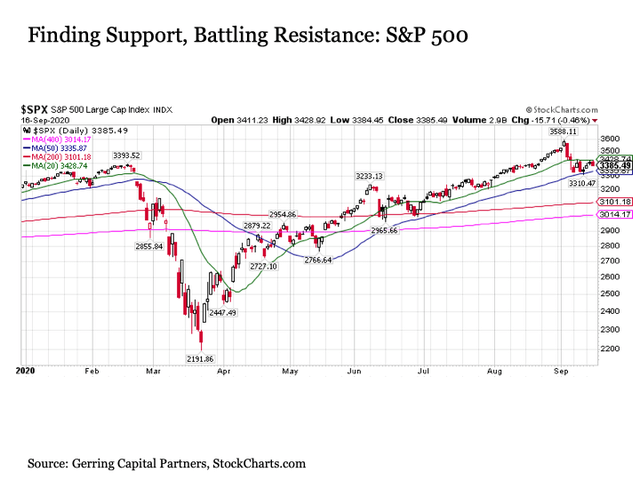 It also marked the first time that the tech heavy NASDAQ 100 had moved decisively below its 20-day moving average since all the way back in early April at the start of the market recovery.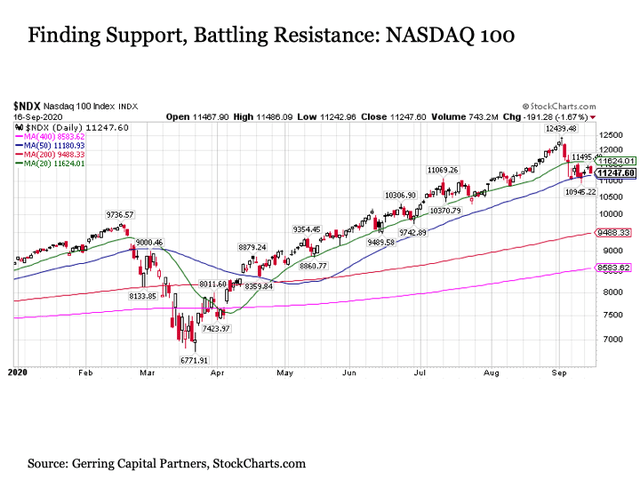 In the days since, both the S&P 500 and the NASDAQ 100 have found solid support on their respective medium-term 50-day moving averages (the blue lines on the charts above). But they also have been unable to break out back above their 20-day moving averages.
Investors should take away two key points related to these latest developments.
First, what was once support in the 20-day moving average has now become resistance. While the S&P 500 and the NASDAQ 100 may soon reclaim this short-term technical level, the longer they linger below what is now resistance, the more challenging such a breakout will become.
Next, both the S&P 500 and the NASDAQ 100 have spent the last nearly two weeks grinding along their respective 50-day moving averages. Just as we saw with the S&P 500 back in late April and early May related to its 400-day moving average when rebounding to the upside, the longer that a security or index grinds along a key technical support or resistance level, the more likely it becomes that it will either break down below if it is support or break out above if it is resistance.
As a result, the 50-day moving average support is currently in play for both the S&P 500 and the NASDAQ 100. And a break down below this key support level could quickly result in another -10% to -15% downside for these benchmark indices, as the next logical stop would be at the long-term 200-day (red line) and ultra long-term 400-day (pink line) moving averages, both of which remain well below current levels.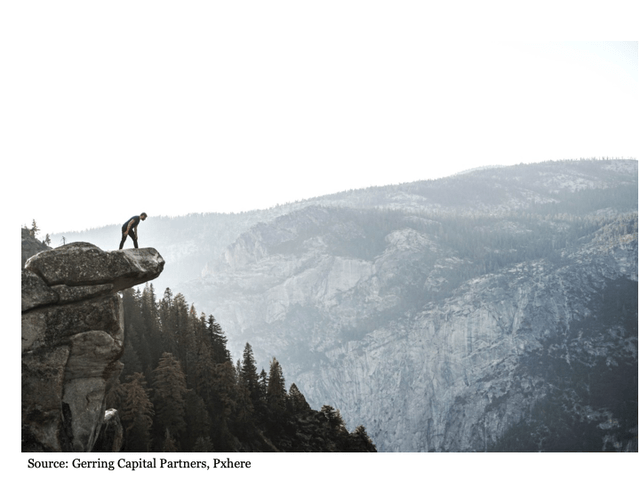 Thus, investors are well served to keep a close eye on 3,335 on the S&P 500 and 11,180 on the NASDAQ 100 in the coming days, for any decisive move below these levels could be the start of a much sharper move lower. Any return to the 200-day and 400-day moving averages mentioned above may represent an attractive short-term to intermediate-term buying opportunity for stocks on such a correction, but more on that in a moment.
Of course, some view technical analysis as the useless equivalent of reading entrails. I too was once a skeptic more than two decades ago until I took the time to embrace it and discover its merit. Today, the foundation of my investment decisions is based on fundamentals, but I also use technicals to fine tune entry and exit points while also to better inform anticipated price movements at any point in time during my holding period. Put simply, I use both extensively.
Fundamental weakness. So, what then of the fundamentals underlying today's stock market? This leads us to the next 10 reasons why stocks may fall further.
Corporate earnings on the S&P 500 Index peaked on a quarterly basis at $41.38 per share on an operating earnings basis and $36.36 per share on a GAAP earnings basis nearly two years ago now in 2018 Q3. This timing is significant, for it highlights that economic and market weakness had been accumulating for stocks long before the onset of the COVID-19 crisis during the middle of 2020 Q1.
Let's start with a take on GAAP earnings. It is notable that during what is effectively the most recently completed quarter in 2020 Q2 (less than 4% of companies in the S&P 500 are still scheduled to report quarterly earnings in the next couple of weeks) that we have seen an outright hemorrhaging of corporate earnings versus where they stood nearly two years ago back in 2018.
Why does this matter? Because stocks are trading measurably higher today versus where they were back in 2018 Q3 to the tune of more than +15% on the S&P 500 and more than +45% on the NASDAQ 100. Put simply, higher prices plus lower earnings equals challenged fundamentals, particularly when it takes place over a two-year time period.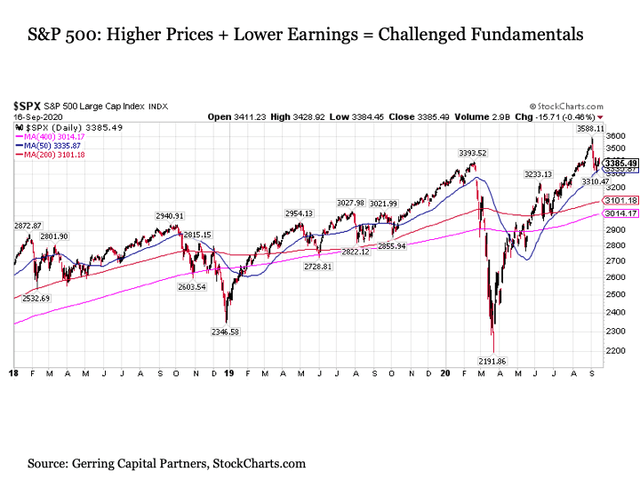 Let's delve deeper into this issue. Not only are quarterly GAAP earnings on the S&P 500 at $17.75 in 2020 Q2 more than -50% below where they were in 2018 Q3, but earnings are decisively lower across each of the eleven GICS sectors (this includes real estate, which is lower on an adjusted funds from operations (AFFO) basis but will be excluded from further analysis on this article). The following details the earnings declines by 10 GICS sector over this time period.
Energy: More than -100% (from $8.67 per share to -$10.77 per share)
Materials: -67%
Industrials: More than -100% (from $2.77 per share to -$0.61 per share)
Consumer Discretionary: -60%
Consumer Staples: -30%
Health Care: -9%
Financials: -50%
Information Technology: -10%
Communications: -51%
Utilities: -54%
Key takeaways from the list above. First, a hatchet has been taken to earnings overall. Second, even the mighty technology sector has seen earnings fall by double-digits over this nearly two-year time period. Third, it is particularly notable that industrials posted negative GAAP earnings in 2020 Q2 at -$0.61 per share, as earnings never even turned negative for the industrials sector during the absolute worst of the Great Financial Crisis (it reached a low of $1.93 per share in 2008 Q4).
Overall, very fundamentally ugly, which helps to explain how the S&P 500 has catapulted from trading at 21 times forward earnings at the onset of the COVID crisis to a staggering 39 times today. Fundamentally mind blowing indeed.
With all of this being said, let me immediately push back on myself. The stock market is forward looking, and investors are not basing their investment decisions on what took place during 2020 Q2 when much of the economy was completely shut down. Of course, earnings were going to be lousy in 2020 Q2. What matters more is how much earnings are expected to rebound as the economy reopens.
With this in mind, let's consider the latest forecasts for sector earnings on an operating basis. We shift to operating earnings since S&P Global does not provide sector level forecasted earnings on a GAAP basis. We will begin with a cut looking at forecasted earnings for 2020 Q3 during a period where economies have reopened and the economic recovery is projected to be strong (whether it is sustainable in future quarters remains to be seen) versus 2018 Q3 operating earnings by sector.
Energy: More than -100% (from $8.44 per share to -$0.50 per share)
Materials: -29%
Industrials: -61%
Consumer Discretionary: -37%
Consumer Staples: -3%
Health Care: +26%
Financials: -32%
Information Technology: +0%
Communications: -19%
Utilities: -3%
While these numbers look quite a bit better versus 2020 Q2, they are still downright ugly in the context of a market that has increased by +15% on the S&P 500 and +45% on the NASDAQ 100 over this same time period. Health care looks great, but tech is flat (which means that the increase in the NASDAQ 100 over the past two years has effectively been entirely valuation multiple expansion that implies greater volatility going forward), and the rest are decidedly in the red.
I'm going to continue to push back on myself. It's unfair to focus on 2020 Q3, because economies were only starting to reopen during the quarter. So let's focus on projected earnings for 2020 Q4 when the economy ideally (emphasis on ideally) is picking up momentum versus the 2018 Q3 peak.
Energy: -91%
Materials: -23%
Industrials: -44%
Consumer Discretionary: -31%
Consumer Staples: -2%
Health Care: +30%
Financials: -34%
Information Technology: +25%
Communications: -3%
Utilities: -39%
Umm, fundamentals are still ugly in my view. Health care still looks great (I'm overweight health care in the stock segment of my broad asset allocation portfolio) and earnings are expected to explode for technology in 2020 Q4, but the rest are still decidedly negative versus 2018 Q3. Furthermore, it should be noted that these are forecasted operating earnings that include all of the magical accounting pixie dust that is sprinkled on quarterly earnings that helps make them look better. More importantly, these forecasted operating earnings for 2020 Q4 assume that economies across the U.S. continue to reopen instead of reverting to closing back down due to a resurgence in COVID-19 related daily new active cases and daily deaths with the return of colder weather to the northern hemisphere and the onset of flu season. In other words, these 2020 Q4 estimates have the very strong potential of falling well short of current forecasts by the time these numbers are being reported starting in January 2021.
An important caveat: 80 billion reasons why stocks will eventually rally. The technical are becoming challenging and the fundamentals are downright ugly. And we have cited 30 reasons why stocks may fall further from here. But we cannot ignore the fact that we have 80 billion reasons why stocks may overcome their current malaise and continue to rally to the upside despite these challenges. For 80 billion represents the dollar amount of Treasury purchases that the U.S. Federal Reserve is carrying out each month as part of their ongoing market rescue program in the wake of the COVID-19 outbreak. Stocks may want to fall for fundamental reasons, but when the buyer of last resort is effectively showing up in the marketplace with what averages out to be roughly $4 billion each and every trading day, this goes a long way in soothing investor nerves and juicing stock demand. This is particularly true when traders also know that the same Fed can turn up the dial as high as $75 billion in daily Treasury purchases or more if it so chooses if things get unstable enough.
Thus, if we do see stocks fall further on the S&P 500 and NASDAQ 100 to their respective 200-day and/or 400-day moving averages in the coming weeks, investors should view any such decline as a potential entry point to selectively add to stock allocations with a short-term to intermediate-term time horizon.
So while stocks may indeed fall further from here, investors should become increasingly alert the further market falls in setting a watchlist for the selected stocks they may wish to pick up at lower prices versus what they are trading at today.
Are you concerned about the potential for stocks to fall further? Are you interested in exploring strategies to capture the rally when stocks finally bottom?
If so, come join us on Global Macro Research, where we apply a contrarian investment approach in preparing for risk in the future while positioning for opportunity today.
Join now and receive a two-week free trial with your subscription.
Members receive our:
· Weekly Key Themes Updates
· Weekly interactive Q&A and Open Discussion sessions on Zoom
· Model Portfolio & Watchlists
· Special Bulletins
Sign up today and prepare for the road ahead.
Disclosure: I/we have no positions in any stocks mentioned, and no plans to initiate any positions within the next 72 hours. I wrote this article myself, and it expresses my own opinions. I am not receiving compensation for it (other than from Seeking Alpha). I have no business relationship with any company whose stock is mentioned in this article.
Additional disclosure: I am long selected individual stocks as part of a broad asset allocation strategy. I am also long SH and RWM as a hedge against these long individual stock allocations.
Disclosure: This article is for information purposes only. There are risks involved with investing including loss of principal. Gerring Capital Partners and Global Macro Research makes no explicit or implicit guarantee with respect to performance or the outcome of any investment or projections made. There is no guarantee that the goals of the strategies discussed by Gerring Capital Partners and Global Macro Research will be met.